[Edit: Now resolved, see post further down thread].
Hi Rudiger & Marcel,
(Or anyone else that can help
).
I am having a problem, while working on my 5th map; and despite days of trying, I can not seem to resolve this one;
What is happening is that the AI buses (and player buses) will not show the destination in ONE of the directions of the route (all is working fine in the other direction). I definately have the correct 'terminus' entered in the OMSI Editor; this is proven by the fact that passengers
do
get on the bus in the 'broken' direction, even though it displays no destination! (not seen that before).
Here's the strange thing; If I cycle through the IBIS (pressing 'Q'), until the route reverses,
then
cycle again back through to the 'broken' route,
the destination DOES then appear!!
.
In fact AI buses will
eventually
display the 'broken' direction, once they have driven one full cycle in each direction!
HERE ARE SOME PICS THAT SHOW THE PROBLEM:-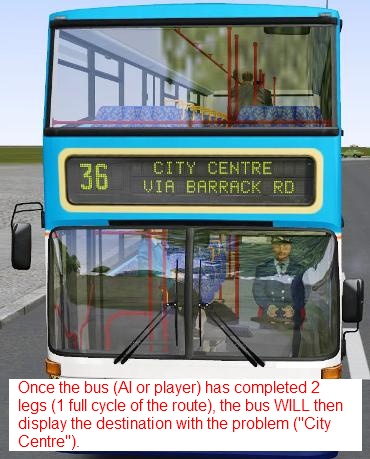 For info:- City Centre - Fenham is currently
Route [36] 01
and and Fenham - City Centre is
Route [36] 02.
Please, please help ......... this is a huge map project and this issue is now stalling progress!
Thank you!
David.